---
Every month since September 1999, the members of the Transgender Bride group on Yahoo! Groups vote on the month's most beautiful brides.
---
Birgit (German crossdresser), September 2007
---
Maxine (Australian crossdresser), October 2007
---
Gabrielle (U.S. crossdresser), November 2007
---
Erandhika (Sri Lankan crossdresser), December 2007
The 100th T-Bride of the Month!
---
Diana (U.S. crossdresser), January 2008
---
Marcela Alanis (Mexican crossdresser), February 2008
---
Dayna (U.S. crossdresser), March 2008
---
Rebecca (U.S. crossdresser), April 2008
---
Lysette Faith (British TV), May 2008
---
Wendy (Canadian pre-op transsexual), June 2008
---
Tina (U.S. TV), July 2008
(Bridal photos taken at Fairplay Imaging, New York)
---
Belinda (Australian crossdresser), August 2008
---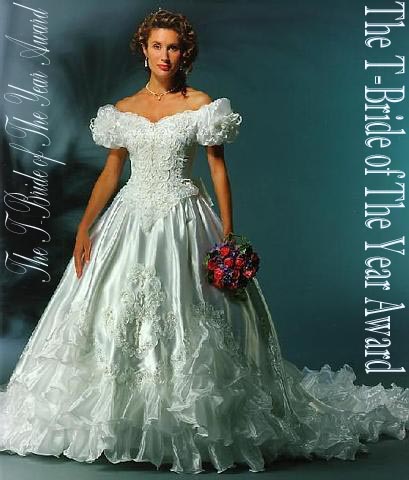 Rebecca (U.S. crossdresser)
---